I probably do around 70 to 80 flights a year. A majority of them are less than an hour and a half. Half a dozen to a dozen will be around 8 to 10 hours, and a couple will be around 15 hours.
Doing that many flights allows you to rack up the frequent flyer points and the status credits, but are they useful? If so, what are the perks?
Free Upgrades
The best perk I've had over the past year or so are the free upgrades. I've been given a domestic business class upgrade from Perth to Melbourne, Melbourne to Sydney, Canberra to Melbourne and Melbourne to Canberra, but the best one by far was an upgrade to First Class mid last year on a flight from Melbourne to Singapore.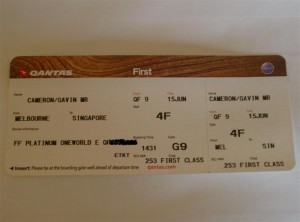 My advice, forget about sleeping in your Qantas PJs. Eat and drink instead! When's the next time you'll be in First Class????
Once you fly at the pointy end of the plane, its very hard to sit down the back for a long flight.
Lounge Access
Travel enough on Qantas, around 30 flights a year, and you will be promoted to a Gold Frequent Flyer and given free Qantas Club access. Perks are free food and drink.
However, rack up enough flights to be promoted to a Platinum Frequent Flyer, around 50 or 60 flights a year, and when you travel internationally you get access to the first class lounges where they exist. The new lounges in Melbourne and Syndey are quite swish and have restuarants and day spas. I guess if you are paying unwards of $10,000 for a first class ticket then you should be pampered a little.
It always brings a smile to my face when I have my cheapest available economy ticket and I walk into the first class lounge.
Qantas is also rolling out domestic Business Class lounges in Australia that Platinum FFs can use.
Priority waitlists and upgrades
Another perk is that when you get waitlisted for a flight or an upgrade your place in the queue all depends on what your frequent flyer status is. A platinum frequent flyer will be inserted in the queue above all the gold frequent flyers, who will be above all the silver frequent flyers, who will be above the bronze frequent flyers, who will be above all the rest of the self loading freight.
Priority boarding
Yet another perk is that you don't have to wait until your row is called to board the plane. If you're a platinum frequent flyer you can board at anytime. This is certainly nice when you have a couple of carry on bags and you want to ensure that you can store them in a over head locker near your seat.
It always amazes me that people board a plane at the last minute with carry on that's close to the maximum allowed size and then optimistically open the overhead locker above their seat expecting that there be room for their bag. Board early, get a good locker.
Priority luggage
Even if you are flying in cattle class, your luggage will be treated as if you are up the front of the plane. A platinum frequent flyer's luggage on an international flight is handled as if you are flying first class. This means that your baggage will usually be in the luggage carousel by the time you've cleared immigration.
The meet and greet
The meet and greet happens either just before you take off, or just after. The head trolley dolly, the one that looks after the people at the pointy end, will come through cattle class and personally introduce themselves to the poor platinum frequent flyers who are stuck down the back of the plane. This is a perfect opportunity to get yourself a newspaper, a drink before everyone else, and most importantly one of those inward express cards that allows you to use the short queues at immigration and customs.
Bonus points
The higher you are up on the frequent flyer scale the more points you get per flight. For example, a platinum frequent flyer can get double the points.
The downside
The downside is that you travel so much during the year for work that the last thing you want to do on your holiday is fly somewhere and use all the perks that you've accumulated. But nevermind, as soon as you are back from your holiday you be using the perks for your work travel.